Stainless Steel Wire
definition
  A wire is a single, usually cylindrical, flexible strand or rod of metal. Wires are used to bear mechanical loads or electricity and telecommunications signals. Wire is commonly formed by drawing the metal through a hole in a die or draw plate. Wire gauges come in various standard sizes, as expressed in terms of a gauge number.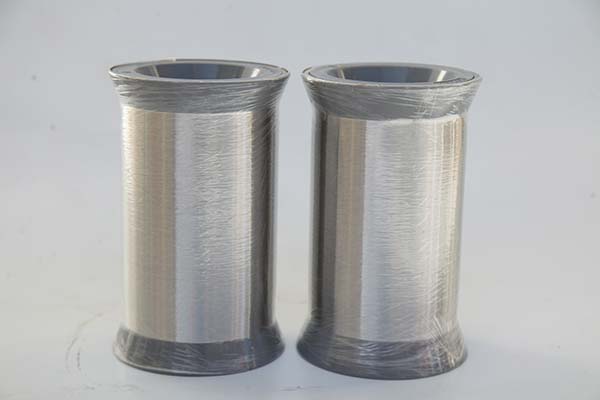 Stainless wire specifications:
  1)Stainless Steel & High Nickel Alloy Wires
  Size Range: 0.03mm to 25.00mm (0.0012" – 1.00")
  Grades: AISI 200, 300 & 400 series, High Nickel Alloy & Duplex Steel (Can also give other equivalent international grades)
  Finish: Soft Annealed – ¼ hard, ½ hard, ¾ hard, full hard (Matte or Bright)
  2) Stainless spring wires
  The diameters are from 0.08 – 22.00 mm in various grades, finishes & packing. We can also supply Ni-Coated wires from 0.08 to 2.00mm. The wires can also be supplied with Eddy Current testing.
  The Spring Wires are manufactured as per ASTM A313, EN 10270-3, JIS G4314, BS 2056 & DIN 17224 & also other equivalent international standards for producing various types of springs like Aerosol Spring, Compression Spring, Extension Spring and Torsion Spring as well as for Wire Form, Straight Pin etc.
  These products are used for Irrigation (Sprinkler), Hardware (Lock, Faucet), Automobile, Aerospace, Electronic, office supply, etc.
  The Stainless Spring wires can be supplied in ½ hard, ¾ hard & full hard conditions as well. We are using drawing lubricants from CONDAT and also of Japanese origin. We also supply AISI 904L, Nitronic 50, Inconel X-750 and 904L emitting electrodes on request.
  3) Stainless cold heading wires
  The diameters are from 1.00 – 25.00mm with soap drawn skin pass uniform coating & from 1.00 – 10.00mm in annealed condition in various grades.The cold heading wires are manufactures as per ASTM A 493 & JIS G4315 standard and other equivalent international standard.
  Surface finish : Soft / coated
  Stainless wire application:
  Stainless wire is used for a wide range of applications such as wire for hoses, strands,wire ropes, springs, fasteners, clips, staples, mesh, fencing, screws, nails, chains etc.
  our company as a Stainless Steel Wire Supplier ,if you need that pls contact us.