200 Mesh Heat Resistance FeCrAl
Alloy Woven Wire Mesh Used For Electric Furnce
  FeCrAl woven wire mesh is also called FeCrAl alloy woven wire, heating resistance alloy woven wire, electro thermal alloy mesh. The raw material is woven into a continuous meshes.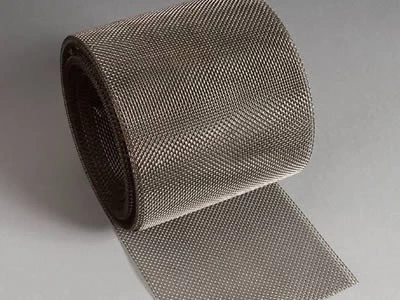 FeCrAl weave wire mesh screen
  1.Mesh count: 8x8-80x80
  2.Roll width: 10cm, 20cm, 30cm, 60cm, 3', 1.0m, 1.2m etc
  Customized outside diameter
  3.MOQ: 1m2
  4.Delivery time: within 7 days
  Applications of Yuze wire Mesh/Screen
  1. Commercial electric furnace and heating equipment
  2. Household electrical appliance, electrical oven, electrical heater
  3. Infrared ray systems.
  our company as a Alloy Woven Mesh Supplier ,provide Alloy Woven Mesh For Electric Furnce ,if you need that pls contact us.